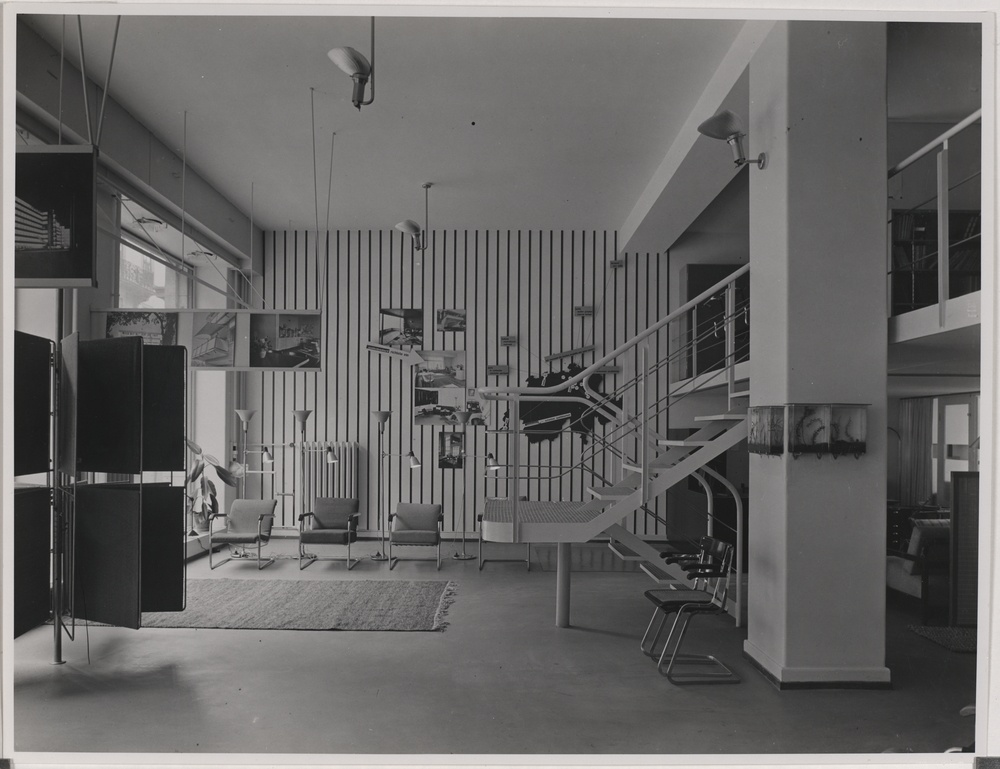 Geplante Umbauarbeiten bedrohen den Wohnbedarf Laden an der Talstrasse 11 bei der Neuen Börse in Zürich
Am 21.1. 1933 zieht die Wohnbedarf AG (wobag) in den neuen von Marcel Breuer und Robert Winkler geplanten und realisierten Geschäftsräumlichkeiten in Zürich ein. Bis heute betreibt Wohnbedarf hier ein Einrichtungsgeschäft, das weit über die Landesgrenzen bekannt ist.Kürzlich wurde bekannt, dass die Besitzer der Liegenschaft, in Teilbereichen war hier auch die Zürcher Börse angesiedelt, an Fassaden und im Inneren Umbauarbeiten vollziehen wird. Grössere neuere technische Installationsschächte bedrohen die weitestgehend erhaltene Innenausstattungsstruktur. Mit der Fassadensanierung wird auch die Aussenreklame in Frage gestellt. Am Schriftzug war Max Bill beteiligt, Herbert Bayer und Richard Paul Lohse hatten die früheren Kataloge und Reklamen gestaltet. Seit Eröffnung pflegt Wohnbedarf den gesellschaftlichen Kontakt über Vorträge und Ausstellungen mit Interessierten der funktionalen Einrichtungsgeschichte.
Renovation work is threatening the Wohnbedarf shop at Talstrasse 11 near the Neuen Börse in Zurich
On 21 January 1933, Wohnbedarf AG (wobag) moves into the new Zurich business premises designed and built by Marcel Breuer and Robert Winkler. Wohnbedarf still operates a furniture shop at this address today, which is known far beyond the Swiss borders.We recently learned that the owners of the building, which also housed the Zurich Stock Exchange, were going to carry out renovation work on the facades and interiors. Important new technical installations threaten the largely preserved interior structure. The renovation of the facade also calls into question the exterior signage. Max Bill was involved in the Lettering, Herbert Bayer and Richard Paul Lohse designed the first catalogues and advertisements. Since its opening, Wohnbedarf has maintained its social commitment through conferences and exhibitions with people interested in the history of functionalist furniture.
Marcel Breuer, Robert Winkler, Wohnbedarf Talstrasse 11, 1932-1933 (pic. Hans Finsler, Kunstmuseum Moritzburghalle)
Friederike Mehlau-Wiebking, Arthur Rüegg, Ruggero Tropeano, Schweizer Typenmöbel 1925-1935. Siegfried Giedion und die Wohnbedarf AG, gta, Zürich, 1989